Order ANNIE here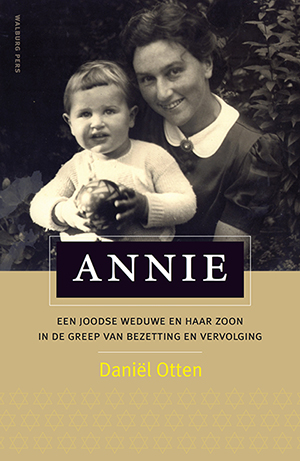 Annie Wolff from Rotterdam was of Jewish descent and married the non-Jewish medical doctor Daniel Johannes Otten at the end of 1937. In 1938, pregnant with her first child, she suddenly became a widow. There was no way she could have known what other disasters were in store for her. After 1940, the persecution of the Jews gradually and stealthily manifested itself and became ever more pervasive, ultimately with fatal consequences.
The story of the persecution of the Jews has often been told but seldom in such a immediately recognisable manner. In reading the letters that Annie wrote to members of her family we are appalled to witness what happens to this young woman and how a net is woven around her that eventually ensnares her. She struggles to keep her head above water in a world that becomes increasingly hostile. Her efforts are in vain. Annie eventually dies in Bergen-Belsen in 1945. Her half-Jewish five-year-old son, Daniel, is not persecuted and remains behind, alone, in the Netherlands.
Daniel, the author of this boek, selected a number of letters from those his mother wrote and received between 1930 and 1944. In 'ANNIE. A Jewish widow and her son in the grip of occupation and persecution', a love story, a family history and the holocaust pass before our eyes.
The Westerbork AudioTrail, a production by Hummel & DeBoer, is part of the Westerbork Trail and consists of stories to which you can listen using the app on a mobile phone. Survivors, people who lived along the route and bore witness, resistance fighters, friends of Jewish victims, people who harboured Jews in their homes; all have their personal story to tell. The length of the stories varies from 4 to 10 minutes. They are introduced by Hanneke Groenteman, a well-known Dutch journalist and television presenter. You can listen to Daniel's story below. More stories can be heard on the website of the Westerbork/Luisterpad.